Bike Mechanic Simulator 2023 officially announced for consoles and PC
Date: Thursday, March 23 @ 01:48:36 UTC
Topic: Gaming
Manager Games S.A. confirmed that Bike Mechanic Simulator 2023 will be heading to consoles and PC. The full version of Bike Mechanic Simulator 2023 for PCs is planned for the second half of this year. The simulator will be released later on Xbox One, Xbox Series X|S, PlayStation 4, PlayStation 5 and Nintendo Switch consoles.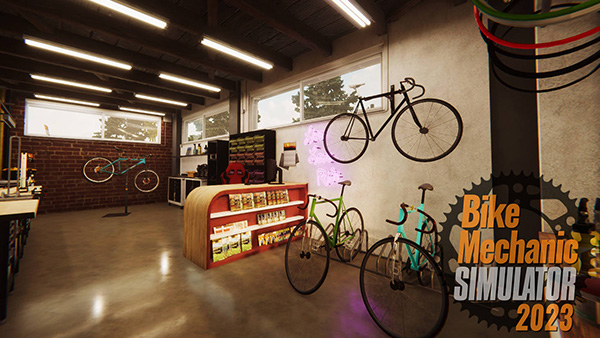 The Polish studio Punch Punk S.A. (Apocalipsis: Harry at the End of the World and This is the Zodiac Speaking) is the creator of the new simulator. The game publisher is Manager Games S.A., the daughter company of the Ultimate Games S.A group (who earlier released Drill Deal – Oil Tycoon for PC).

The Steam platform already offers a free demo of Bike Mechanic Simulator 2023 which introduces us to the game. The creators give the player the three bikes (each in 2-3 variants), and the gameplay is limited to a time within which you can do various random jobs.

Bike Mechanic Simulator 2023 is a realistic simulator, where you can learn the ropes of the bike mechanic and progress in running your workshop. The gameplay involves repairing, servicing and bike assembly within the jobs received for completion. The player's role is also to maintain the workshop with its tools and repair stand.

"While the demo is being out now, we're looking forward to hearing from the players whose opinions are also the valuable source for the further game development. The full version of Bike Mechanic Simulator 2023 will be packed with more content, and each of the elements will be scrutinised and enhanced. Our main objective is that the game is not only a realistic simulator, but also a good entertainment and something to chill at. For this reason, Bike Mechanic Simulator 2023 will, to some extent, as far as the mechanic job is concerned, be simplified", said Tomasz Sobiecki, CEO of Manager Games S.A.

The final version of the game will combine the main story mode with the sandbox mode. The core theme will be focused on the expansion of your workshop into a multi-room one, equipped with more and more sets of tools. In terms of the storyline, it will evolve around various events and the renovation of an antique bicycles.

In Bike Mechanic Simulator 2023 you'll find a wide range of bicycle variants, starting from city bikes, mountain bikes and road bikes as the main category. Each model has a dozen of various components.

Bike Mechanic Simulator 2023 – main features:
bike mechanic career;

servicing, repair and bike assembly;

various jobs;

many bike types and their components;

story mode combined with sandbox mode.
The premiere of the full version Bike Mechanic Simulator 2023 for PC (Steam) is planned for the other half of the year. PlayStation 4, PlayStation 5, Xbox One, Xbox Series X|S and Nintendo Switch versions are to join later.

Watch the official Bike Mechanic Simulator 2023 reveal trailer below.

For future information including game trailers & videos, release dates and updates, follow @XONEHQ on Twitter, YouTube, Instagram, Facebook, and Pinterest, download the free XBOX app for Android or subscribe via email and rss.


News Source: XBOXONE-HQ.COM