Farming Simulator 22's GoWEIL Expansion PACK is OUT NOW
Date: Wednesday, March 22 @ 17:00:55 UTC
Topic: Gaming
GIANTS Software revealed that nine new agricultural machines and tools are now available for Farming Simulator 22 players on consoles and PC. The Göweil Pack adds new possibilities while improving the quality and efficiency of your operation that depends on baling your valuable resources.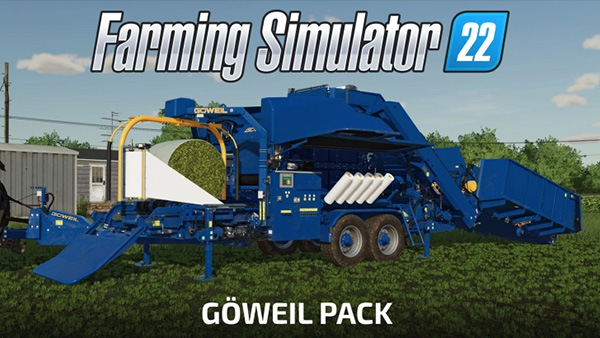 Austrian manufacturer Göweil has an international reputation for producing high-quality, durable, and innovative machinery – especially baling and wrapping technology. With their debut in the Farming Simulator series, a broad selection of machines and tools adds new possibilities for virtual farmers with a knack for baling.

Players are now able to transform even more resources into bales: Corn silage, sugar beet pulp, mixed feed, and more can be baled and wrapped with high-tech machines like the Göweil LT-Master F115 or VARIOMaster V140. A small but substantial detail for baling enthusiasts: Net-binding in addition to foil-wrapping will be possible.

Enhanced Quality-of-Bale-Farming

Operations dependent on baled resources can also extend their farm by deploying stationary and autonomous baler-wrappers like the G4010 Q Profi to achieve a high output of bales in variable shapes & sizes. Roller wrappers like the Göweil G1015 attach to front loaders or three-point hitches and transport, wrap, and stack bales – with one single, efficient machine.

Good news for clumsy farmers frequently chasing their bales: Thanks to the addition of a bale turner, the days of round bales rolling downhill are numbered. It's easier to put them into storage, too – thanks to new bale grippers and bale forks like the Göweil RBG and BTGQU. Even the quality of bales rises with optional silage additive tanks for baler wrapper combinations like the Göweil G-1 F125 Kombi. Further included: the fixed chamber baler G-1 F125 and the trailed round bale wrapper G5020 to round the selection off and wrap it up!

Just the Start for a Content-Heavy Year

With the Göweil Pack, GIANTS Software releases the first of many official updates in 2023. Even more content will be added free of charge, and the official in-game ModHub will continue to grow with developer-tested user creations.
Farming Simulator 22 is available for Xbox Series X|S, Xbox One. PlayStation 5, PlayStation 4 and PC/Mac; the Göweil Pack is ready for download today. A Year 2 Season Pass is available, which includes the Göweil Pack, three more packs and an expansion – fans save up to 30% compared to getting the content separately.
For more video game release dates and more, follow @XONEHQ on Twitter, YouTube, Facebook and Pinterest, and download the free XBOX app for Android.

Xbox Store: here
News Source: XBOXONE-HQ.COM