BATTLEFIELD 3 BETA NOW OPEN TO ALL....
Date: Thursday, September 29 @ 22:11:58 UTC
Topic: Gaming
The guys with early access had their private time with the Battlefield 3 Beta, but starting today, the beta is open to the rest of the world. Check out our exclusive Xbox 360 and PC Beta gameplay just after the break..



Everyone on the Xbox 360, PS3 and PC are now welcome. The best part is, there are no caps on the number of people that can get the beta nor how far you can rank up in the game or what you can unlock.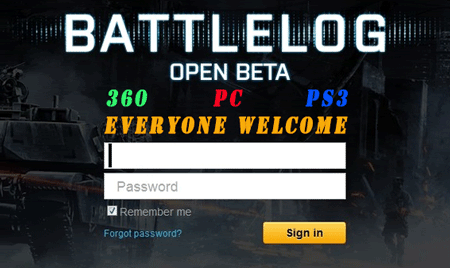 Who can get beta?

Anyone in the world with an Xbox 360, PS3 or PC capable of running the game and with high speed internet. No limit on number of people that can download the beta, but the number of spaces in the online servers is not infinite, so you may have times you can not get into a game because they are all full.


How Long can I play the beta?

The open beta ends on October the 10th.


Where to get beta for Consoles?
XBOX 360


1. From XBL Marketplace, locate Demos section
2. Locate the BF3 Beta


PS3


1. From PSN Storefront, click "View All" By Title
2. Click on B
3. Click on Battlefield 3, and locate BF3 Beta


What about the PC?

To play on a pc, you will first need to download the Origins client. It will be needed to both download the beta and to play it as well.

1. Go download the Origin Client HERE
2. Once you have the Client downloaded, open it and Log into Origin With your existing EA account info or you can click on the client to register for a new account.
3. When you are logged in you will be taken to the origin main page, you want to click on the tab that says FREE GAMES (that's if the BF3 beta is not right there on the main front page by the time you go to the site)
4. You should find the Battlefield 3 Beta, click to download it.
5. Once you have downloaded it you will need to install it which is pretty straight forward. Then you are good to go, you will just go to your Origin client to play the game.

WARNING

I have not tried on the consoles but I can tell you that as of today many people are getting an issue when trying to launch the game on PC.

Players are clicking on the button to Join a quick match from the Origin client and immediately getting the following ERROR message..

"Failed to ping closest servers, please try again. If this happens frequently, check your firewall settings. "

This may not be firewall related at all. After going through the EA forums it seems that those that got early access to the beta had no issue untill the beta went global, also they reported that when getting the error they pulled up the servers and seen they were all full. Thus this error is most likely just servers overloaded and no open slots at all. So before messing with your firewalls I would suggest just giving it some time and try later. This may be an issue for as long as the Beta is open, you will just have to hope to slip into an open slot.

An additional Note: You can get the latest Drivers for your Graphics cards that have been updated for the BF3 beta right on the origin site, Where you click to join a quick match, you just need to look above that area on the web page and to the right to see the link for downloading the latest drivers.

Have fun all, and Good luck getting into a game.

News-Source: BATTLEFIELD.COM
360-HQ Games Hub: BATTLEFIELD3
Join The Discussion on this topic: Forum Thread for this Topic
Battlefield 3 BETA - Operation Metro Xbox 360 Gameplay

Enjoy 27 minutes of gameplay spread over 2 videos from the BF3 BETA. I was just screwing around on it, so don't give me too much shit.. lol (Hit that LIKE button!)









Battlefield 3 BETA - Caspian Border PC Gameplay

This was played on the Caspian Border PC servers which have since been taken down. Too bad, That map is super fun. A whole different world from the Metro map. The gameplay and origional video is far better looking than this video which has been converted and edited many times, causing a loss of resolution and smoothness, but still looks pretty good.