Robbers steal family's Playstation & Xbox at gunpoint
Date: Thursday, January 24 @ 03:13:21 UTC
Topic: Xbox 360
Colorado Springs Police are investigating an armed robbery of a Playstation, an Xbox and several video games at a family home.

The hold-up lasted 30 mins, with the suspects threatening to shoot the family. The robbers made off with the consoles on foot. The police have said they do not think it was a random act.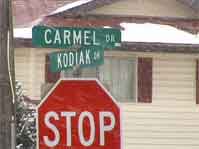 Kristi Claybourne says, "They were saying if anybody moves, shoot them; if they flinch, shoot them." She says the three men held her and the others at gunpoint while they tore through their home. "He put a gun to the back of my head."
Claybourne describes the suspects as black or hispanic, in their late or twenties and less than six feet tall.
The hold-up lasted about a half-hour according Claybourne, and the suspects took of with a Playstation, an X-box and several video games. The suspects then took off on foot.
Claybourne says, "At the time I was thinking, how could these black people be robbing black people on Martin Luther King's birthday."

News-Source: maxconsole.net