CES: HD-DVD Group Postpones Conference
Date: Tuesday, January 08 @ 00:10:50 UTC
Topic: Hardware
The HD-DVD Promotion Group has shelved its CES conference plans following Warner's decision to drop HD-DVD support in favor of exclusive Blu-ray distribution.

"Based on the timing of the Warner Home Video announcement today, we have decided to postpone our CES 2008 press conference," read a statement from the organization.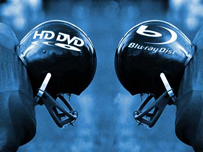 "We are currently discussing the potential impact of this announcement with the other HD-DVD partner companies and evaluating next steps. We believe the consumer continues to benefit from HD-DVD's commitment to quality and affordability – a bar that is critical for the mainstream success of any format."

Warner previously announced that its new focus on exclusive Blu-ray distribution "… will further the potential for mass market success and ultimately benefit retailers, producers, and most importantly, consumers," reports MCV.

"The window of opportunity for high-definition DVD could be missed if format confusion continues to linger," chairman and CEO Barry Meyer reasoned.
Sony CEO Howard Stringer responded jubilantly to Warner's decision, while Toshiba said it was "… quite surprised by Warner Bros' decision to abandon HD-DVD in favor of Blu-ray, despite the fact that there are various contracts in place between our companies concerning the support of HD-DVD."

News-Source: Next-Gen