New Games This Week...
Date: Tuesday, November 06 @ 09:38:09 CST
Topic: Xbox 360
The greatest year in the history of games continues this week with the release of Call of Duty 4: Modern Warfare, LEGO Star Wars: The Complete Saga, and Mario & Sonic at the Olympic Games. Also making a splash this week is the PC arrival of Gears of War and Aqua Teen Hunger Force: Zombie Ninja Pro-Am. Are you grabbing any of these this week, or are you holding out for something more grand? Let us know what your plans are below.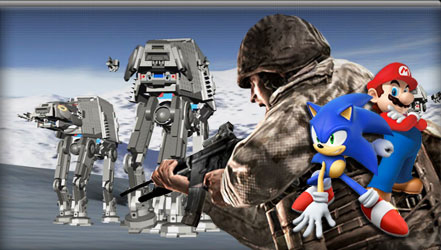 Call of Duty 4: Modern Warfare - 360, PS3, PC, DS

Lego Star Wars: The Complete Saga - 360, PS3, Wii, DS

Mario & Sonic at the Olympic Games - Wii

Gears of War - PC

Aqua Teen Hunger Force Zombie Ninja Pro-Am - PS2
Read more for the entire listing.

News-Source: G4TV-TheFeed

Agatha Christie: And Then There Were None - Wii

Bee Movie Game - Wii

Bladestorm: The Hundred Years' War - 360, PS3

Bratz 4 Real - DS

Build-A-Bear - DS

Cabela's Big Game Hunter 2008 - 360, Wii, PS2

Dragon Quest Monsters: Joker - DS

Empire Earth III - PC

Enchanted - DS

F.E.A.R. Files - 360

F.E.A.R. Perseus Mandate - PC

Fire Emblem: Radiant Dawn - Wii

Game Party - Wii

Ghost in the Sheet - PC

Hannah Montana: Spotlight World Tour - Wii

Hannspree Ten Kate Honda: SBK-07 Superbike World Championship - PSP

Horse Life - DS

Hot Wheels: Beat That - PC, DS

Indy 500 - DS

Left Brain Right Brain - DS

LifeSigns: Surgical Unit - DS

My French Coach - DS

My Pet Dolphin - DS

My Spanish Coach - DS

My Word Coach - Wii, DS

Octomania - Wii

Ontamarama - DS

Panzer Tactics DS - DS

Power Rangers: Super Legends - PS2, PC, Gamecube

Puzzle de Harvest Moon - DS

SOCOM: U.S. Navy SEALs Tactical Strike - PSP

Sam & Max Episode 201: Ice Station Santa - PC

Scene It? Lights, Camera, Action - 360

Silent Hill: Origins - PSP

Supreme Commander: Forged Alliance - PC

The Bee Game - GBA

The King of Fighters XI - PS2

The Simpsons Game - PSP

The Sims 2: Teen Style Stuff - PC

Tips, Tricks & Trips + Aircraft Collection - PC

Viva Pinata - PC

World Series of Poker 2008: Battle for the Bracelets - DS, PSP

Yu-Gi-Oh! The Beginning of Destiny - PS2